Holiday in Val di Non, Trentino

Your search
Hotels Val di Non
Cles, Tuenno, Ton, Fondo, Mendel, Ruffrè, Predaia, Novella, Rumo, Taio, Lago di Tovel, Lago di Santa Giustina, Rio Sass: small hotels, pensions (guest houses), aparthotels
Located in the centre of Coredo, the hotel is an ideal starting point for numerous excursions on foot or by mountain bike through the woods, on the Predaia plateau or on Mount Roen.
offers
19/07 - 22/07/2019

248€ for 2 days
Characteristics
Sarnonico (Fondo - Mendola)
The Vescoli family would like to welcome you to Hotel Waldheim, a traditional hotel and wellness center located in the beautiful Val di Non. The family operates a fully staffed restaurant, bar and sauna in one of the most traveled regions in Europe.
offers
03/07 - 31/07/2019

120€ for 2 days

03/07 - 31/07/2019

177€ for 3 days

03/07 - 31/07/2019

336€ for 6 days
Characteristics
The Hotel and Apartments Al Larice is a family-run hotel and offers its guests excellent dishes, courtesy, attention to details and very clean and tidy rooms. It is situated near the center of the village of Ronzone, surrounded by nature, in a very panoramic location.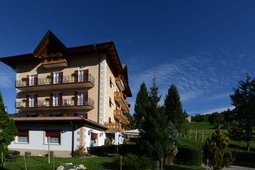 Welcome to the hotel Aurora located in Non Valley. Excellent hospitality is offered to you!
The hotel is situated in a unique and sunny location with a panoramic view over the valley, representing an ideal starting point for excursions, trekking and holidays in Trentino.
offers
25/08 - 20/10/2019

from 329€ per week

25/08 - 20/10/2019

from 150€ for 3 days
Characteristics
Cavareno (Fondo - Mendola)
Are you looking for relaxation and tranquillity? Piccolo Hotel Bruno is the right place for you! It is located in Cavareno, a small village in the Non valley, where you can admire the majestic Dolomites, stop at mountain huts and undertake adventurous hikes in the nature.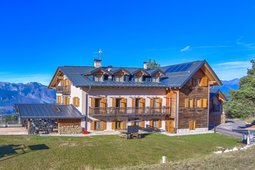 The Predaia plateau had a lot of hay, even for the farmers of the nearby Valle d'Adige, simply called 'todes'ci'. This is in short the historical name of this shelter explained in the sign "Rifugio Predaia ai Todes'ci" that dominates the Valle di Non.
Placed in a striking position with a panoramic view of the wonderful Brenta Dolomites, the hotel offers spacious and homely rooms or junior-suites, equipped for your greatest comfort. Traditional and typical dishes can be tasted in the bright dining room with panoramic view.
Malosco (Fondo - Mendola)
The Hotel Bucaneve is located halfway between the villages of Malosco and Ronzone, a position offering a magnificent view over the valley. Guests can discover the many sights of the area, including the Sass and Novella canyons, the sanctuary of San Romedio and Castel Thun.