Your search
Hotels Val di Non
Cles, Tuenno, Ton, Fondo, Mendel, Ruffrè, Predaia, Novella, Rumo, Taio, Lago di Tovel, Lago di Santa Giustina, Rio Sass: small hotels, pensions (guest houses), aparthotels
La Capannina is located on the Predaia - Plateau at the foot of the Roen: a building equipped in mountain style, surrounded by nature and by the larch and pine woods. Here you will be welcomed by the typical hospitality of the valley.
offers
05/09 - 30/09/2020

from 30€ per night
Characteristics
Located in the centre of Coredo, the hotel is an ideal starting point for numerous excursions on foot or by mountain bike through the woods, on the Predaia plateau or on Mount Roen.
The hotel/restaurant Scoiattolo (squirrel in English) is immersed in nature, at the foot of the Park Adamello-Brenta. Comfortable parking areas, green gardens, a playground for little guests, a panoramic terrace, a disco and an amazing view over the valley.
Sarnonico (Fondo - Mendola)
The Vescoli family would like to welcome you to Hotel Waldheim, a traditional hotel and wellness center located in the beautiful Val di Non. The family operates a fully staffed restaurant, bar and sauna in one of the most traveled regions in Europe.
The Hotel and Apartments Al Larice is a family-run hotel and offers its guests excellent dishes, courtesy, attention to details and very clean and tidy rooms. It is situated near the center of the village of Ronzone, surrounded by nature, in a very panoramic location.
Malosco (Fondo - Mendola)
The Hotel Bucaneve is located halfway between the villages of Malosco and Ronzone, a position offering a magnificent view over the valley. Guests can discover the many sights of the area, including the Sass and Novella canyons, the sanctuary of San Romedio and Castel Thun.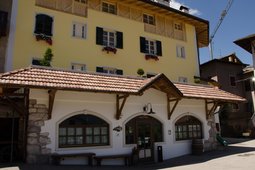 The Sandro Farm was created thanks to the dreams and enthusiasm of the Formolo family. The whole family continues to work for it with passion and dedication since 2012. With the same enthusiasm and passion they treat their guests, cultivate their soil and prepare their dishes.